The Deserted House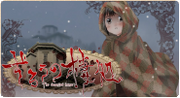 The Deserted House (ずろうの棲処, Zurou no Sunika) is a horror-themed visual novel game that debuted on Kitayume in 2006. It is connected to the continuity of Barjona Bombers, and was initially planned as part of a series. It focuses on the character Youko Kotohira, who takes a part-time job as a maid at the titular house. However, she discovers that the surrounding town is rather strange and may have some dark secrets.
The story has been revisited on occasion in a couple of one-shot comics. Himaruya had planned to make a new Deserted House game, though it appears the plans for this one have been stalled or scrapped entirely.

Hetalia: Axis Powers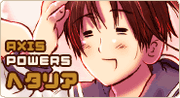 Axis Powers Hetalia, later referred to as Hetalia: Axis Powers (ヘタリア Axis Powers) is a later webcomic by Hidekaz Himaruya and one of the more prolific yet infamous of his series. It began in October 2006, and has since been adapted into published format and an anime series, along with drama CDs. The series is primarily a gag-themed manga involving representations of political and historical events, as well as old ethnic jokes and assorted trivia about the countries. Though the manga originally was meant to represent both the first and second World War eras, the direction shifted to representing other periods of history such as the medieval ages and the 21st century.
For more in-depth information on the series, visit the Hetalia Archives.

Live-A-Live
Main Article: Live-A-Live (fancomic)
MoeKan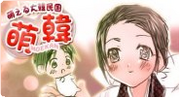 MoeKan was a short comic that debuted on Kitayume in 2006. However, it was removed from the site with its revamps in late 2007 and early 2008. It is notable yet controversial in its lead character being a Korean and their depiction. The title derives from the word moe (lit: "bud", a slang term used to describe things that one has an affection for) as well as Kankoku, the Japanese word for South Korea.
Seven strips were drawn for the comic. It is unknown if Himaruya planned to continue it or not. An early working title seen in a colored picture of Sena was Korea Mansae!.

Okinawa Heart
Main Article: Okinawa Heart
Okinawa Heart was a one-shot short coming of age story written and was released in 2006. The story take place in a time after World War II and the Battle of Okinawa and focuses on a sansei (third generation) girl named Michelle Kyan. Michelle returns to her grandfather's hometown in Okinawa with knowledge of only his stories, and no knowledge of Japanese whatsoever. Years later, Himaruya published a short comic called "Get a Haircut" focusing on the main characters of this story.
Shimojirou
Main Article: Shimojirou
Community content is available under
CC-BY-SA
unless otherwise noted.