Featured Article

Yamato Nara (奈良大和, Nara Yamato) is a character in the manga Barjona Bombers by Hidekaz Himaruya. Though he was not a major character initially, not appearing until the Barjona game, he came to be popular due to his teaming up with Noto in the Noto-sama games. Like the other cast members, he attends Barjona Marine High School. More...

About Barjona Bombers
Main Article: Barjona Bombers (webcomic)
Barjona Bombers (バルヨナボンバーズ, Baruyona Bonbazu) was the second major webcomic and game series created by Hidekaz Himaruya (then known as Kazuyoshi Himaruya). It debuted in July 2004 with its first two chapters posted on the original host for the webcomic strips, Side-B. The series focuses on a group of delinquents at Barjona Marine High School, who have to deal with reluctantly running their school's revived broadcasting club.
Poll Time!
Would you watch a Barjona Bombers anime?
Kitayume Blogs
Create blog post
Blogs
Kitayume Wiki has moved hosts and is now on ShoutWiki. The site can be accessed at kitayume.shoutwiki.com

Read more >

I started a Kitayume Answers questions wiki. I made this in hopes if anyone would like to know about Himaruya's other series.

It's been up for quite a while, but no one but I and MizuTakishima have vi…

Read more >

你好! 近排點呀? (Néih hóu! Gahnpàaih dím a?)

(Hello! How are you doing recently?)

Wiki got a new look and Monaco will be no more on November 3rd. So I'm thinking about a November Revamp of this place. Any op…

Read more >
See more >
Featured Image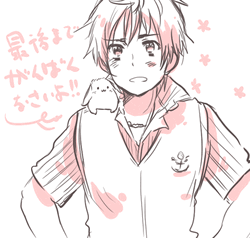 Helping Out
To write a new article, just enter the article title in the box below.
Not sure where to start?