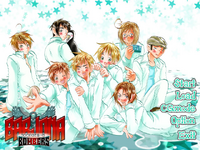 Barjona Bombers (バルヨナボンバーズ, Baruyona Bonbazu) is a mini-game created by Hidekaz Himaruya that was released as a free download on Kitayume in 2005 based off of the series of the same name. It features the debut of Yamato Nara.
Characters
Edit
Staff (Team Yasagure)
Edit
Scenario, Character Designs: Hidekaz Himaruya (credited as Kazuyoshi Himaruya)
Main Program, Character Voice, "Moe Staff": Ese-kun
3D Programming: DarkLiveHeart, Marenatsu Fukatsuki
Processing, "Moe Staff": Akatsuki Kurenai
Voice Cast
Edit
Note: It is likely that most, if not all, of the cast members used pseudonyms. Information about them will be provided if available.
Kalom Hikone: Kalvass
Tsukomi Hoke: Hibiaru
Sunki Udono: Ichigo Honsuwa
Nishinomaru Hunai: Touya Tsukishima
Homare Aizu: "167"
Minatsu Iyo: Kojo Genone
Matsuri Hakata: Shusu Sato
TERUKO: Tsuki Iya
Akabeko: Kurumi Ayachi
Mino: Yukio
Minato Mirai: Tomo Haneda
Kamome Yuri: Haruka Mizuno
Iyuta Nibutani: Hotvs
Tira Sugusuku: Su Otonashi
Komachi Akita: Miruku Hisashi
Teruchiyo: Haruka Suou
Nishiki Yonezawa: Kyah
Erika Hibiya: Echako
Keiko Yoshino: Akatsuki Kurenai
Takara Hunai: Karo Ase
Shirodan-senpai: Kujira
Remake (2007)
Edit
In 2007 Himaruya posted a remake of the game on his site, though it was lost in the revamp that came later in the year. He announced plans for a sequel to it in 2008 and posted concept art,but the sequel has yet to materialize. The 2007 remake (balzen.zip) appears to be gone from his sakura.ne server as well (due to its expiration), making it practically impossible to find.