Sena
ㄴ둠

Hometown:
Korea
Age:
17
Gender:
Female
Birthday:
Unkown
Hair Color:
Black
Eye Color:
Brown
Height:
Unknown
Weight:
Unknown
Blood Type:
N/A
First Appearance (Manga):
MoeKan
Last Appearance (Manga):
MoeKan
Sena (ㄴ둠) is the main character in the short-lived webcomic MoeKan.
Appearance
Edit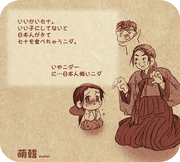 She has long black hair tied up into a ponytail with a large red bow. She has large brown eyes and she dresses in a white and navy blue hanbok underneath a long red skirt. She is often depicted carrying a large beige fan.
As a child, she is depicted in similar clothing except her hanbok has oversized sleeves.
Personality and Interests
Edit
At a young age Sena was taught to fear the Japanese and as a result detests Yoshida, and will go as far as attack him and demand retribution. Her verbal tick of "nida" is the equivalent to the verbal ticks of "aru" (from de aru, "it is") and "desu" ("it is"), the word "nida" comes from the Korean word "imnida" meaning "it is". She appears to enjoy sweets like crepes.
Relationships
Edit
Main Article: Yoshida
Upon their first meeting Sena attacks him, demanding that he apologize. She is briefly taken aback as she finds him attractive, contradicting the image she had been taught about how Japanese people look. However, she continues to badger him, and even makes him buy her a crepe.
In Himaruya's later and best-known comic, Hetalia: Axis Powers, he had planned to introduce a South Korea character that would be a young girl who idolized America for his pop music and stardom. Along with both series debuting in 2006, there are similarities in the designs of Sena and this female Korea.One draft of this South Korea, shown in a booklet included in the special edition of Hetalia: Axis Powers volume 2, shows her hairstyle to look much like Sena's, while another draft depicts her with some fringe. But the sketch that appears on the Kitayume site depicts the female Korea as wearing her hair in a braid and with blunt-cut bangs.
In the end, Himaruya wound up never using this concept and discarded it, instead introducing a male South Korea, a character that proved to be controversial on his own. The female Korea design was reused for Sena, though it appears that Sena actually predated the design and thus was the inspiration behind it.
Community content is available under
CC-BY-SA
unless otherwise noted.